Michael H. Lewis
Biography
Michael H. Lewis was born in Brooklyn, New York in 1941. He received his MFA in painting from the State University College, New Paltz, New York in 1975, and an MA in painting from Michigan State University in 1964. He came to the University of Maine in 1966, where he is currently a Professor of Art teaching painting and drawing. Lewis exhibits his paintings on a regular basis at Steven Scott Gallery in Baltimore, and in New York City, Boston, and throughout Maine. His paintings are in the permanent collections of the Fogg Art Museum, Harvard University, Cambridge, MA; the Albertina Museum, Vienna, Austria; Colby College Museum of Art, Waterville, Maine; the Portland Museum of Art, Portland, Maine; and others. Lewis' paintings are also in the collections of London Fog Corp.; Merck and Co.; Columbia Pictures Entertainment Corp.; General Foods Corp.; and others, as well as numerous private collections.

ARTIST'S STATEMENT:
I would like my work to invite the viewer to proceed from the specific reality of the external, physical landscape into a space that is at once more intensely personal, mysterious,and perhaps mystical (spiritual).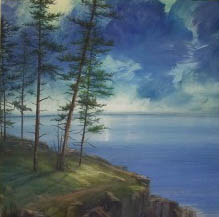 Morning Light, Acadia Park, 1998
Oil wash on rag board,
24 x 24"
$3450 unframed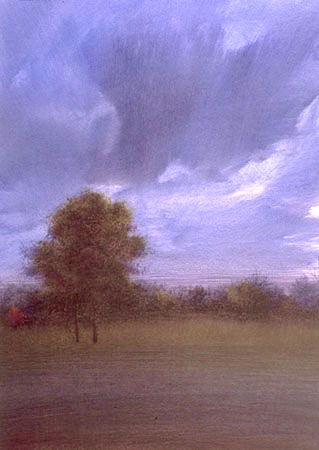 A Gentle Moment as the World Changes, 2000
Oil wash on rag board,
Private Collection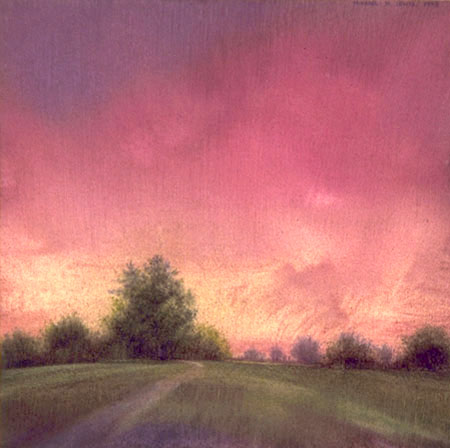 Spring (Afternoon), 1998
Oil wash on rag board,
8" x 8" image size (16" x 16" framed)
Private collection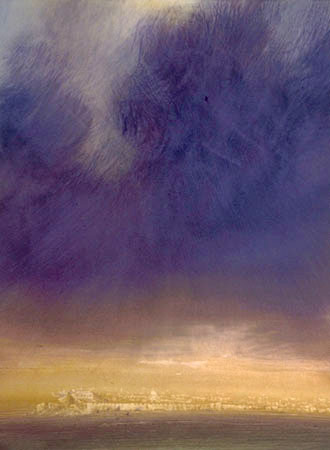 Peace Be within Thee (Jerusalem) #1, 1996
Oil wash on rag board,
24" x 18" image size (32" x 26" framed)
Private Collection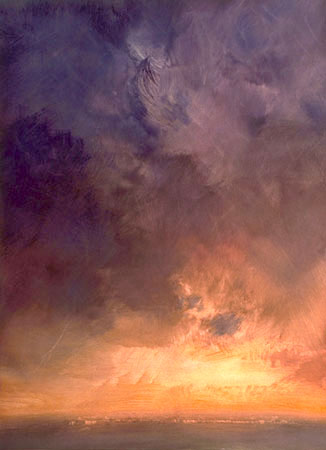 Peace Be Within Thee (Jerusalem)#3, 1996
Oil wash on rag board,
38" x 28" image size (46" x 36" framed)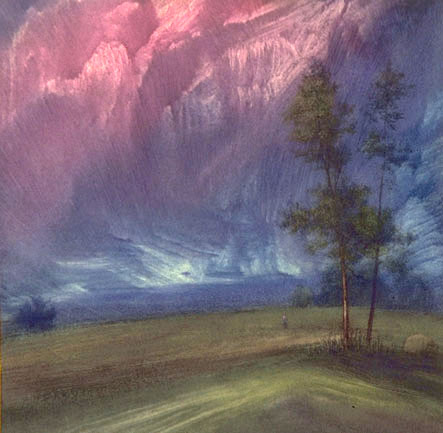 After the Rain (Edge of a Plowed Field), 1998
Oil wash on rag board,
13" x 13" image size (21" x 21" framed)
Private Collection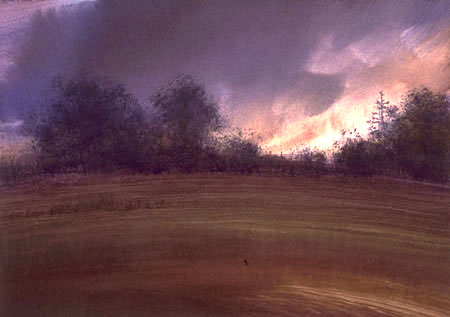 Passing Storm, 2000
Oil wash on rag board,
10" x 14" image size (18" x 22" framed)

Private Collection
Reviews
"The instant depicted by Lewis is never a throwaway moment--not the static between stations, but the first vivid second of pure reception. His color steeps outward from a pang of hurt or hit of joy, seeming not an artist's selection but inevitable as rain." Jenna Russell, Bangor Daily News, January 13, 1998
"Technically, they're beautifully executed, and there's a certain mystery. There's an evocative quality, a mystical atmosphere..."
Hugh Gourley, Director, Colby College Museum of Art, January 1998
[Michael H. Lewis's paintings] "bring to mind such painters as Claude, Turner, Inness and Rothko. Yet Lewis...is everywhere his own man, transforming the lessons of art history into new visions of the outer world."
Carl Little, Art in America, September 1990.
"Maine artist Michael H. Lewis achieves both a sensual and spiritual dimension in luminous landscapes, restoring the nineteenth-century aesthetic of the sublime to a contemporary audience."
Mary Ann Trulli, Department of Drawings, Fogg Art Museum, Harvard University, 1993.
"Michael H. Lewis looks to the English and German Romantics, but has studied Rembrandt and Claude Lorrain as well. He...draws from the deep wells of human experience and from a memory that transcends the limits of a single human life, encompassing the common cultural and spiritual heritage of our humanity. Lewis' work is not possible without the formal experience of Mark Rothko and Abstract Expressionism that dominated the art at the time of his early training. He started working in his present vein in the middle of the seventies and shows a valid new approach to religion and spiritual art, which has been rarely treated in our century."
Dr. Konrad Oberhuber, Director, Albertina Museum, Vienna, 1983.